BUS DRIVER APPRECIATION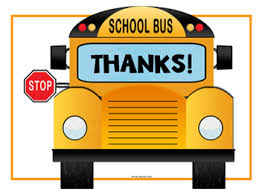 ---
February 27 is Bus Driver Appreciation Day.
Thank you, Mrs. Toutges and Mr. Renteria!! We appreciate you!

If you ride a bus -- and even if you don't -- will you let our bus drivers know how much we appreciate them?
These hearty souls are up before we are these cold winter days preparing for the routes. Additionally, they are faithful in getting us where we need to be for field trip and various club meets.

We also want to say thank you to Tim Penner and Andy Olson for stepping in when our regular drivers need a sub.